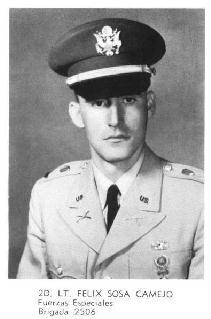 Another Brigadista who volunteered for "Nam. You'd think ONE betrayal by politicians should be enough for any soldier's lifetime! But no….
Mr. Sosa-Camejo died while rescuing a wounded comrade during the Tet offensive, he'd already been awarded 12 medals, including the Bronze Star, three Silver Stars and two Purple Hearts. I'll quote from his official citation:
"On February 13, 1968, the lead platoon was hit by an enemy bunker complex manned by approximately forty North Vietnamese Regulars. Upon initial contact the point man was wounded and lay approximately 10 meters in front of the center bunker.

With disregard for his safety, Captain Sosa-Camejo ran through the intense enemy fire and pulled the wounded point man to safety. After ensuring that the wounded man was receiving medical treatment, Captain Sosa-Camejo returned to the fire fight and again exposed himself to the intense enemy fire by single handedly assaulting the center bunker with grenades killing the two NVA soldiers manning the bunker.

As he turned to assault the next bunker an NVA machine gun opened up and he was mortally wounded. Captain Sosa-Camejo's valorous action and devotion to duty are in keeping with the highest traditions of the military service and reflect great credit upon himself, his unit, and the United States Army.
BTW, from his limousine Michael Moore sneers at this Cuban-American and his band of brothers as "wimps and crybabies with yellow lines down their back.
Comments
comments