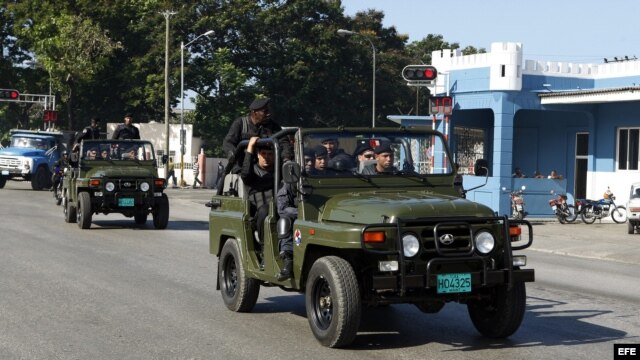 The Cuban regime is busy with final preparations before the arrival of Pope Benedict XVI on the island tomorrow. To ensure the papal visit goes off without a hitch, the regime has launched a massive offensive against Cuban dissidents and opposition groups, conducting mass arrests, beatings, and laying siege to homes where human rights activists are congregated. Moreover, the city of Santiago de Cuba, where the pope will arrive on Monday, has been taken over by Cuban military personnel and is in complete control of the Castro armed forces.
Throughout the weekend, Cuban State Security has been rounding up and arresting dissidents by the dozens. Others have had their identification cards confiscated, which are necessary to conduct any travel outside their home city, and have been threatened and ordered to remain inside their homes during the pope's visit.
Pedazos de la Isla has a partial summary of the arrests and repression that has taken place in the last few days:
(PARTIAL SUMMARY) Wave of arrests and threats sweep across Cuba just hours before the visit of Pope Benedict. #PopeCuba

Caridad Caballero Batista, an independent journalist and Lady in White, reported from Holguin on Friday, March 23rd, that she and her family had been taken off the list of Cubans who would be allowed to travel to the Mass to be celebrated by Pope Bendict XVI on Monday, March 28 at 5:30 pm. The activist went to the pastor of her local church and asked him about this. The Father told Caballero that he approached a Communist official from the Department of Religious Affairs who told him they had nothing to do with that, but State Security made the case to to omit her. Caballero, her son Eric and her husband Esteban, however, have said they will try to go to the Mass in Santiago de Cuba anyway. The activist denounced the fact that all of the homes of all dissidents in Holguin remain under strict surveillance of the Cuban political police.

Marta Rondon Diaz, coordinator of the Eastern Democratic Alliance and a Lady in White, reported that on the night of Thursday March 22nd she was able to reach the home of her elderly mother in the neighborhood of Buenaventura in the province of Holguin, but amid much vigilance and threats. Once inside the house, Rondon said that a number of officials from the political police and State Security had surrounded the house and threatened that she could not travel to the Pope's Mass in Santiago de Cuba either. The opponent affirmed that "the Cuban regime can not stop me from going to church because I am a practicing Catholic, it is my faith and my house is not a dungeon. I will leave the house." Meanwhile, on Friday afternoon, Díaz Rondón's husband, Juan Oriol Verdesia was violently arrested in their hometown of Banes and his whereabouts are unknown.

Luis Felipe Rojas, blogger and independent journalist was also reported arrested in his small town of San German. Many opponents have tried to contact his wife, Exilda Arjona, but their phone line appears to be blocked by the massive censorship tactic across the island, as are the cell phones of countless activists including Yoani Sánchez, José Daniel Ferrer García and Oscar Elias Biscet.

Sara Marta Fonseca, Lady in White and human rights activist, also has had her cell phone blocked for several days. On Friday afternoon she was also arrested with her husband, Julio Leon Fonseca, in the Cuban capital.
Rolando Rodriguez Lobaina, national coordinator of the Eastern Democratic Alliance, who was deported this week from Havana to his home in Guantanamo, detailed via Twitter that arrested by force, on March 24, were opponents Isael Poveda Silva – in Guantanamo — and in Baracoa: Francisco Manzanet, Roberto Pelegrin and Roneidi Salas. A Cuban military officer told Silva that they were going to "round up all the opponents before the papal visit."

Jorge Luis Garcia 'Antunez', the national coordinator of the National Civic Resistance Front Orlando Zapata Tamayo, also used his Twitter account to denounce the arrests of Misael Valdes and Elicardo Freire, among other dissidents of that umbrella organization.

Continue reading HERE.
In addition, phone reports from Cuba have been pouring in to Hablalo Sin Miedo these past two days detailing massive arrests and a violent operation by the Castro dictatorship to neutralize the opposition movement on the island. Here are a few of the headlines from the calls opposition members and independent journalists in Cuba are making to Hablalo Sin Miedo just this past Saturday, March 24th (my translation):
Comments
comments