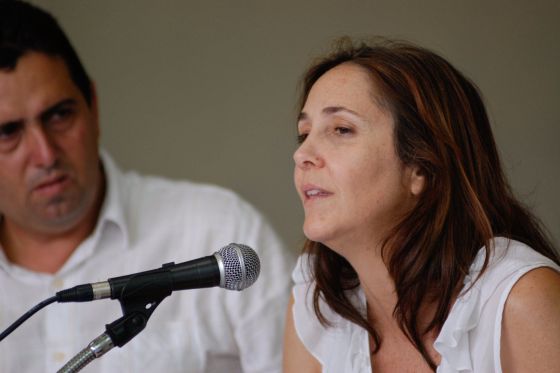 The news that the U.S. State Department authorized the issuance of a visa to Mariela Castro, the daughter of Cuban dictator Raul Castro and a powerful official of the island's repressive regime, is evolving from a typical Obama administration blunder into a scandal. The State Department's egregious circumvention of law and Presidential Proclamations while offering stone-faced claims of no such violations is raising more questions about what exactly is taking place behind closed doors between the Obama White House and the State Department. As more information regarding this ignominy comes to light, it appears the Obama administration now as has another scandal on its hands: "Visagate."
The fact that the State Department has decided to allow Mariela Castro, a high-ranking official of the Castro dictatorship, to enter the U.S. and promote the vile regime of her father is bad enough. However, we are learning more details about the State Department's decision that any reasonable American would find disturbing. For instance, while Mariela Castro was given permission to enter the U.S., almost a dozen "academics" from Cuba were denied visas. According to the Obama administration's policy of "people-to-people" contacts with the island, its goal is to foster dialog between Americans and "regular" Cubans who are not apparatchiks of the communist dictatorship. In the case of the Cuban academics, however, the State Department decided to abide by the current restrictions and deny them visas while making an extraordinary exception for perhaps one of the top five Castro officials on the island.
Of course, the daughter of the most violent and brutal dictator in the Western Hemisphere and a sworn enemy of the U.S. would never risk a visit to the U.S. without her personal security team. So, the State Department has also issued visas for two of Ms. Castro's bodyguards who will accompany her during her tour of the the U.S. If you have any inkling of how Cuban intelligence works, you will know that these two "bodyguards" are really highly-trained intelligence agents and trusted officers of the dictatorship's military.
And if that were not enough to elevate this serious breech of National Security by the Obama administration to a scandal, State Department has informed the Chairman of the House Foreign Affairs Committee, Rep. Ileana Ros-Lehtinen, that they may possibly break with the long-standing agreement they have with the committee and cease informing them of what Castro officials are being granted visas to enter the U.S. Since this is now a scandal, it should not surprise anyone that the State Department under orders from the Obama administration is apparently seeking revenge for the strong criticism that has been leveled at them by Rep. Ros-Lehtinen and a bipartisan group of congressional representatives and senators, including Senator Marco Rubio (R-FL) and Senator Bob Menendez (D-NJ).
Perhaps the most scandalous aspect of Visagate is how the State Department has reacted to questions about their decision. In an effort to defend the indefensible, their response has been incoherent at best and downright disingenuous at worst. Capitol Hill Cubans points out two very important departures from current restrictions and policy, which the State Department is unable to reconcile. In addition, they have a rather comical exchange between a reporter and State Department spokesperson Victoria Nuland:
State Defies President Obama's Visa Policy

This is a fascinating exchange during today's State Department Daily Press Briefing.

Note two things:

1. State Department spokesperson Victoria Nuland justifies not denying Cuban dictator Raul Castro's daughter visa saying:

"We have to follow U.S. law, and if we are going to deny visas, we have to do so under one of the stipulations in the visa law."

What?

U.S. law (specifically Section 212(f) of the Immigration and Nationality Act) provides full authority for the State Department to deny visas to Cuban regime and Communist Party officials, hence Presidential Proclamation 5377.

2. Then, Nuland absurdly states:

"We don't link visa policy in cases like this to our larger political and economic and human rights relationship with countries."

What?

The President of the United States, Barack Obama, gave a speech less than a year ago linking visas to human rights.

Is State now defying the President's own policy?

Finally, kudos to the educated reporter that states the obvious at the end:

QUESTION: I know you've addressed this before, but now that some of the organizations are confirming that Raul Castro's daughter is coming, can you say anything about issuing a visa?

MS. NULAND: Again, I'm not going to speak to visa issuance, but I would refer you to some of the public comments that she herself has made.

QUESTION: Hold on. No, no, no. Yeah, on this. So now that she's spoken about it, you're still not going to say whether you granted her a visa? We'll just have to assume that when she shows up in San Francisco and starts speaking that she didn't come in illegally?

MS. NULAND: I think that'll be a fair assumption to make.

Continue reading HERE.
Welcome to Visagate, the latest scandal from the Obama administration.
Comments
comments