The Castro dictatorship's new arbitrary migratory reform policy continues to deny passports to some Cuban dissidents while granting them to others. Yesterday it was reported that dissident Gisela Delgado was denied a passport, joining a group of other dissidents who have been denied as well. However, we now learn that Berta Soler, the leader of Cuba's peaceful human rights group the Ladies in White, has been granted a passport by officials of the island's dictatorship.
Cuba's Ladies in White chief gets passport, plans Europe trip; 2nd dissident told can't travel

The leader of the Cuban protest group the Ladies in White says she has received a passport. But a lesser-known dissident says she has been told she cannot leave the country.

Berta Soler is the most prominent member of the Ladies. She says she picked up her passport Friday and intends to travel to Europe to pick up a human rights prize awarded to the group in 2005.

Previously she was denied an exit visa, a requirement that was ended last month with a new travel reform law.

Separately, activist Gisela Delgado says migration officials told her she will not be permitted to travel due to her affiliation with dissident organizations.

Cuban authorities call dissidents counterrevolutionaries who seek to undermine the government.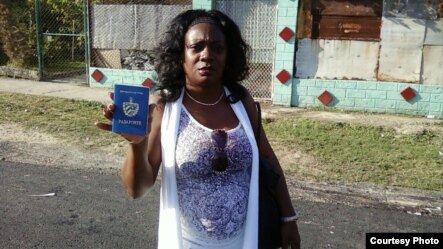 Photo via Martí Noticias
Comments
comments