I have to admit surprise recently when it was reported that Mariela Castro, the Cuban dictatorship's self-proclaimed princess, had been denied a visa by the U.S. State Department. She wanted to come to the U.S. and receive an award at an LGBT conference in Philadelphia for her farcical defense of gay rights. As the daughter of Cuba's ruthless dictator Raul Castro, Princess Mariela is not only a high-ranking official of the island's dictatorship, she is also a shameless and depraved promoter of her father's brutally repressive policies. Policies that violate the human rights of all Cubans, especially minorities such as the gay and lesbian community in Cuba. In the past, however, the Obama administration never paid much attention to the atrocities and gave Ms. Castro carte blanche to peddle her father's propaganda all over the United States.
Nevertheless, it took less than a week for the Obama State Department to snap out of its senses and decide once again to turn a blind eye to the blatant human rights violations of a country only 90 miles from our shores. And once again, the Obama administration has chosen to appease a violently repressive dictatorship with extensive ties to terrorist organizations and which happens to have a pervasive spy network operating within the U.S.
Daughter of Cuban president to get visa to attend conference in U.S.

Mariela Castro, the daughter of Cuban President Raul Castro, will be granted a U.S. visa to attend a conference on lesbian and gay civil rights in Philadelphia in May, a U.S. official tells CNN.

Initially not expected to receive a visa, the official said the case was "looked at again" and "the restriction on her visa has been lifted, which will allow her to travel" to the event on lesbian, gay, bisexual and transgender issues.

Mariela Castro is the director of Cuba's National Center for Sex Education and the niece of former Cuban leader Fidel Castro.

Although she is not gay, she has lobbied for gay rights in Cuba, including the right for same-sex couples to marry and for AIDS awareness.

The global conference, sponsored by the Equality Forum, a Philadelphia-based LGBT organization, will highlight the status of gay rights in Cuba.

Contacted by CNN on Monday, the organizers said they had not received official confirmation that Mariela Castro would attend.

She is scheduled to take part in a panel discussion on May 4 and to receive an award from the Equality Forum as an "International Ally for LGBT Equality."
Of course, for the U.S. to swing the door open and roll out the red carpet for a high-ranking official of a criminal and murderous regime takes some effort. Namely, making huge exemptions to presidential proclamations that were designed to stop the officials of blatant human rights violators from gallivanting around the U.S.
[T]he State Department has (yet again) made an exemption for the Cuban dictator's daughter from Presidential Proclamation 5377, which denies visas to Cuban nationals affiliated with that country's totalitarian regime.

Mariela is not only the daughter of Cuba's dictator, but she is a member of his regime's National Assembly, a spokesperson for its repression against democracy activists (whom she refers to as "despicable parasites") and a defender of the arbitrary taking of American hostage Alan Gross.

Moreover, this throws (yet another) bucket of cold water on President Obama's Presidential Proclamation 8697 of August 2011, which sought to "close the gap" in granting visas to foreign nationals affiliated with human rights violators — and singling-out "prolonged arbitrary detentions" as a main violation.

Mariela's father, is one of the world's worst offenders of such detentions.

Just this weekend, dozens of members of the Ladies in White pro-democracy group were savagely beaten and arrested for their peaceful  advocacy.

Despite this, the Castro family gets rewarded with another U.S. visit.

Read the entire report HERE.
And finally, this latest development contains the usual absurdity associated with everything having to do with Cuba's vile dictatorship. Punt de Vista is reporting that the LGBT conference in Philadelphia Princess Mariela will be attending and receiving an award at will also be auctioning off a luxury, nine-day vacation in Cuba.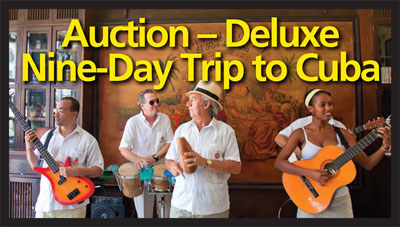 The winners of this auction will get to spend nine days basking in luxury and eating the finest foods in Cuba while the island's starving residents are mercilessly beaten, imprisoned, and murdered for voicing any opposition.
Talk about absurd.
Comments
comments