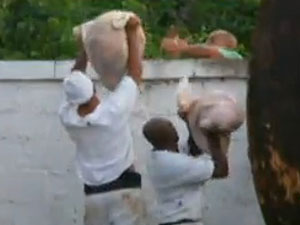 As reported by Café Fuerte, the video below catches the "reforms" of Cuban dictator Raul Castro in full form. Workers from Castro a regime-owned meat packing plant in Guantanamo are seen stealing hundreds of pounds of meat. It seems the so-called reforms in Cuba have not been very successful in reforming much of anything, but then again, we all knew that would be the case. When a population is brutally enslaved and deprived of the most basic of human rights for more than fifty years, the results are never pleasant and cannot be mitigated by a few cosmetic reforms designed to keep the slave masters in power.
Interestingly, the video was filmed and distributed by the Cuban dictatorship's infamous Ministry of the Interior (MININT) and comes with this deliciously ironic quote from one of its officials (my translation):
"The lack of revolutionary vigilance is obvious. Workers are standing around watching this theft and no one repudiates or denounces this terrible act."
Café Fuerte has the full report in Spanish
.
Comments
comments