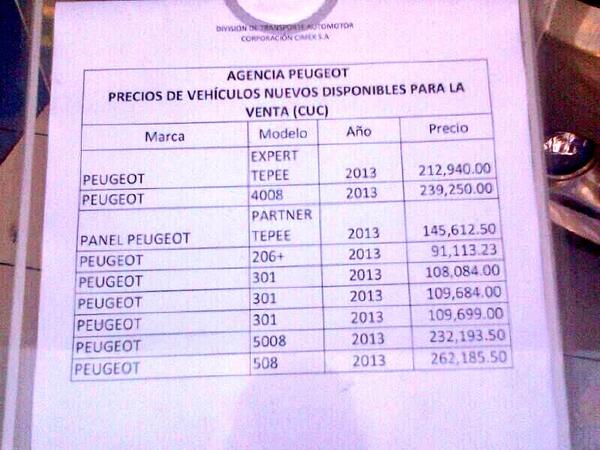 After fifty-five years of prohibiting Cubans from purchasing new cars, today the Castro dictatorship will begin allowing common citizens to purchase a new automobile. This new "reform" by Cuba's apartheid dictatorship is being met with shouts of joy and glee, but not by the Cuban people. Instead, it is the press and "Cuba Experts" who are celebrating the incredible magnanimity of murderous dictator Raul Castro. For Cubans, this "reform" is nothing more or nothing less than cosmetic: Just another stroke of lipstick on Cuba's totalitarian pig. At over $250,000 — cash only, no financing — for a Peugeot (see photo of official price list above), this reform clearly lies well out of reach for Cubans who on average make $20 a month.
But hey, why let such an inconsequential detail such as that get in the way of a great story glorifying the magnificently racist dictatorship of the Castro family?
Cubans Now Allowed to Buy $263,182 Peugeots

The media has been abuzz about dictator Raul Castro's latest "reform," which purportedly (after 55 years) grants Cubans "the right" to buy a new or second-hand car — but only from the state's monopoly.

This "reform" takes effect on Friday.

Previously, Cubans were first required to request permission from the monopoly, in order to then try to purchase a vehicle from the monopoly.

Now, they can just try to purchase a vehicle from the monopoly without first requesting permission from the monopoly.

But wait, there's more.

Today, Raul's fine print has been released, which reveals that each car will be marked-up (at least) an additional 50% in fees for the monopoly.

Call it the "Castro cut."

As such, Cubans will now have "the right" to purchase a 2013 Peugeot for $263,185.50.

Of course, all sales must be cash — no financing available.

Think we're kidding?

Click here.

More "reform" you can't believe in.
Comments
comments