The sixth and last installment in a six part series written exclusively for Babalú by Cuban American engineer, Humberto (Bert) Corzo (Part 1, Part 2, Part , Part 4 , Part 5):

Havana: The New Art of Making Ruins – Part 6 of 6
By Humberto (Bert) Corzo
Fidel Castro, in a speech May 19, 1967, said: "Beginning in 1970, our country expects to build 70,000 or 100,000 houses a year. (…) Beginning in 1970, 100,000 families will receive a "roof" every year. In 10 years, this will amount to one million houses."
During the first 25 years of the Revolution, from 1959 to 1983, only 296,616 housing units were built, equivalent to 11,865 units a year, well below the 100,000 houses a year promised by the liar in chief. It took a period of 30 years, between 1984 and 2012, to build 1,121,674 housing units, equivalent to 37,389 units a year, much less than the 100,000 houses promised to be built per year. Promises, empty promises, of a corrupt and incompetent regime.
Lack of maintenance has been the main cause for the deterioration of the structures built before 1959. After 1959, several other factors like poor construction quality and upkeep, use of voluntary workers who lack the necessary skills and defective construction practices have contributed to the deterioration of the housing stock. Case in point are the 4 and 5 story multifamily buildings of concrete block bearing walls and pre-fabricated floors and roof, built by the microbrigadas in the 1970s in the Alamar Neiborghood.  About 75% of the buildings are affected by rainwater seepage through the roof slab and leaks in the walls which have cause their rapid deterioration (corrosion of reinforcement, concrete spalling, electrical fittings damage, etc.), due to poor workmanship, and lack of roof and waterproofing maintenance.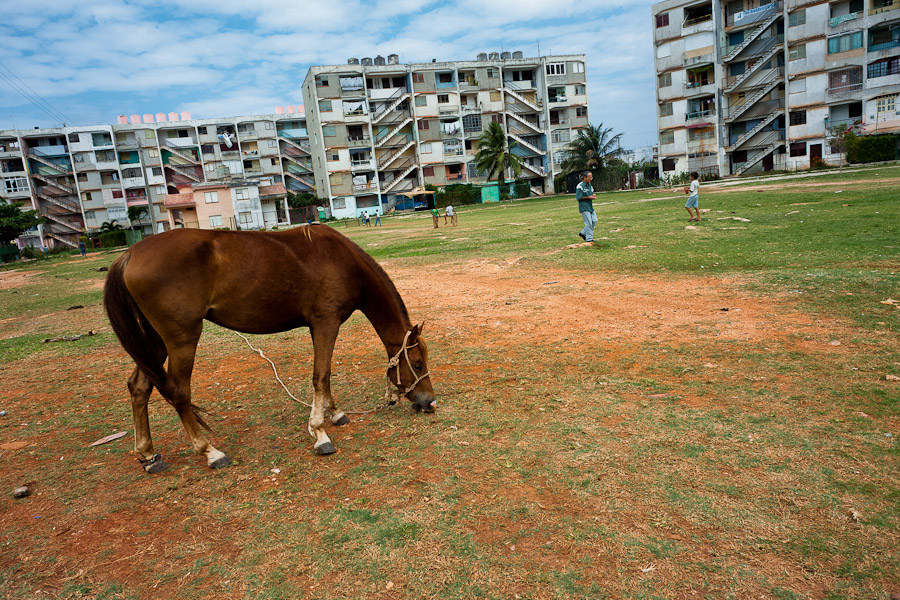 Alamar's urban design and planning is a nightmare. The failure of the design to achieve its expected results was determined by: An inefficient buildings layout which located them far apart wasting the space in between; minimal green and recreational areas were provided; inability to create local employment and lack of adequate public transportation to places of work; insufficient infrastructure; and limited spaces assigned for the use of commercial services, banks, garages, etc. The Alamar Neiborghood has been transformed in one of the largest slum in the city.    

Theodore Dalrymple, English writer, author and physician, in his essay "Why Havana Had to Die", Summer 2002, City Journal, tell us why: "Decay, when not carried to excess, has its architectural charms, and ruins are romantic: so romantic, indeed, that eighteenth-century English gentlemen built them in their gardens, as pleasantly melancholic reminders of the transience of earthly existence. But Fidel Castro is no eighteenth-century English gentleman, and Havana is not his private estate, for use as a personal memento mori. The ruins of Havana that he has brought into being are, in fact, the habitation of over 1 million people, whose collective will, these ruins attest, is not equal in power to the will of one man.
"Forty-three years of totalitarian dictatorship have left the city of Havana ? one of the most beautiful in the world ? suspended in a peculiar state halfway between preservation and destruction.
"I suspect that the neglectful ruination of Havana has served a profoundly ideological purpose. After all, the neglect has been continuous for nearly half a century, while massive subsidies from the Soviet Union were pouring in. A dictator as absolute as Castro could have preserved Havana if he had so wished, and could easily have found an economic pretext for doing so."
Castro is a psychopath and has always been one, His sadistic ego alone destroyed Cuba, and he doesn't live in the ruins, but he has become a ruin. He deserves a long journey into the night crumbling down piece by piece, as the ruins created by his calculated neglect.
The best solution for the future generations to solve the huge housing deficit, after the demise of the regime, rest in capital infusion by the government and private investors to repair and built new houses, using modern technology to build them fast and with quality at affordable price.
Havana: The New Art of Making Ruins. Credits:
Florian Borchmeyer, director and screenplay writer
Matthias Hentschler, producer
Tanja Trentman, director of photography
Winner of the Bavarian Film Awards for Best Documentary, 2006
Los Angeles Latin Film Festival Special Jury Award, 2006
Production Company: Glueck Auf Film, Koppfilm, Raros Media, 2007. Film
Actors: Antonio José Ponte, the "ruinologist", Totico Fernández , Misleidys , Nicanor del Campo, Reinaldo Angelotti, Silvia Hernández Guzmán, Ana Magdalena Bernal.
Country: Germany
Language: Spanish
Subtitles: English, German
Runtime: 86 minutes
Florian Borchmeyer studied literature at the Havana University in 1999, where he met and befriend Antonio José Ponte. He based the documentary script on Ponte's "Un arte de hacer ruinas y otros cuentos." In 2006 he graduated as Doctor of Philosophy. He is a literary critic for the daily Frankfurter Allgemeine Zeitung and curator of the International Program at the Munich Film Festival, and since 2011/12 season, the artistic director at the theater on Rosa Luxemburg Platz.
Antonio José Ponte graduated in Hydraulic Engineering from the University of Havana. He worked for some years as an engineer, then became a screenwriter and literature professor. He is the author of poetry, essays, novels, and stories like "Un arte de hacer ruinas y otros cuentos", Mexico, D.F. 2005. In 2003 he was expelled from the Cuban National Union of Writers and his works banned from being published in Cuba. Since 2007 he live in Madrid not been allowed to return to the island. He is co-director of the digital publication Diario de Cuba.
_______________________________
Humberto (Bert) Corzo was born in Cuba. In 1962 he graduated from University of Havana with a degree in Civil Engineering. Since coming to the United States in 1969, he established his residence in Los Angeles, California, where in 1972 he obtained the registration as a Professional Engineer. He has over forty five years of experience in the field of Structural Engineering. He is a Member of the American Society of Civil Engineers and the Cuban-American Association of Civil Engineers.
Comments
comments