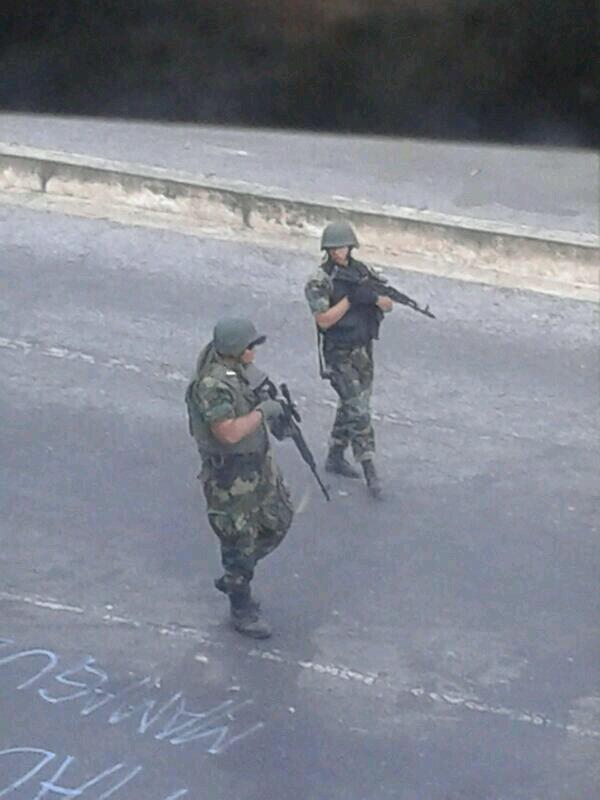 The photo above is perhaps one of the tamest photographs you will see documenting the violent and bloody repression that took place in Venezuela yesterday. As tens of thousands of peaceful pro-democracy protestors took to the streets against the Cuban-imposed dictatorship of Nicolas Maduro, the Venezuelan military unleashed violence and bullets against them.
Our good friend Marc Masferrer from Uncommon Sense has a Storify compilation of the horrific images and accounts coming out of Venezuela yesterday via Twitter. Here are just a few:
#30M seguimos en protesta. De aquí no se mueven, todos al paredón. @MovCoro @FarandulaCoro @marcosabrahams pic.twitter.com/1593UPc5Ax #SOSVzla

— jose alberto lozada (@joselozfar) March 30, 2014
#MaduroElHayaEsTuFuturoRoberto Anesse fue asesinado con una escopeta por un GN pic.twitter.com/vOvLg7RDlM #30M #MaduroMasacraAlTachira

— SiPodemosVzla (@LoLogremosVzla) March 30, 2014
Un batallón entero tomó control por completo de la Av. Ppal de Pueblo Nuevo hace instantes #30M pic.twitter.com/RpcF0j7Bvm

— Resistor Venezuela (@ResistorVzla) March 30, 2014
See the entire compilation HERE.
Comments
comments