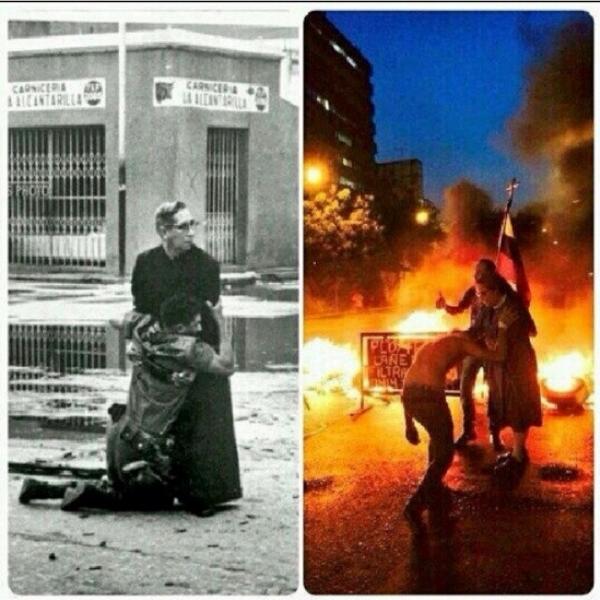 They are both in the same part the world, predominately speak Spanish, and answer directly to the Holy See in Rome, but they may as well be on different planets. The Catholic Church in Cuba, which is under the direction of the dubious Archbishop of Havana, Cardinal Jaime Ortega, has completely surrendered to evil and submitted itself to the Castro dictatorship, becoming a willing tool of repression for the regime. In Venezuela, however, the Catholic Church is not yet willing to surrender and submit itself to the diabolical evil of Cuba's communist tyranny. To the contrary, the Venezuelan church is actively working to protect its flock from the wolves and following the example of Christ, speaking out for the oppressed, the downtrodden, and those who are imprisoned.
Venezuela government seeks 'totalitarian' regime

The Roman Catholic Church in Venezuela accused the leftist administration of President Nicolas Maduro on Wednesday of seeking to impose a "totalitarian government" and blaming it for protests shaking the country.

The scathing assessment from the influential church follows suggestions that the Vatican act as mediator between the government and the opposition after nearly two months of unrest that have left at least 39 people dead.

Monsignor Diego Padron, president of the conference of bishops, denounced what it called the abuse of force, torture of detained protesters and the persecution of opposition mayors and lawmakers.

"The government is mistaken in wanting to resolve the crisis by force. Repression is not the way to go," he said.

The protests were caused, he said, by "the attempt by the ruling party and the authorities of the Republic to install the so-called Plan of the Fatherland, behind which hides the imposition of a totalitarian government."

Padron voiced support for Vatican mediation in a future "sincere dialogue," and the government also has indicated it would be willing to engage in such talks.

But Caracas Archbishop Jorge Urosa Savino said the Vatican has not received official notice from the government inviting it to take part.

A papal spokesman told AFP Tuesday that the Vatican and Vatican secretary of state Pietro Parolin, a former nuncio in Caracas, were keen to help but announced no plans.

Speaking at a news conference, Padron expressed regret over the deepening polarization in the country, where the vast majority of people identify themselves as Roman Catholics.

Continue reading HERE.
Via Maduradas, a Catholic nun in Venezuela speaks out against the evil Castro-imposed tyranny and says a prayer for freedom:
Comments
comments