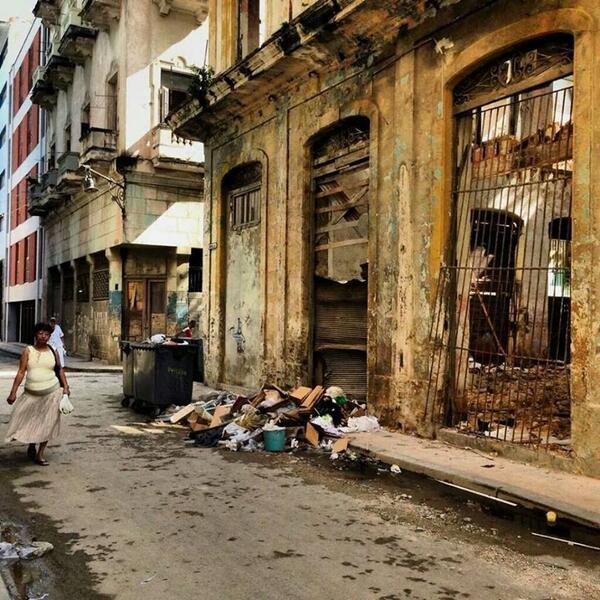 Just like all of the other "reforms" of the Castro dictatorship, they look wonderful on paper — and by paper we mean the pages of the foreign press who are all too willing to disseminate Castro propaganda. In practice, however, these so-called reforms do absolutely nothing to ease the misery and squalor of life as a Cuban slave on the Castro slave plantation.
Cuba Home Woes Endure Despite Real-Estate Reform

The residents of 308 Oquendo Street were jolted awake in the middle of the night by violent shaking and a noise that they likened to a freight train, or an exploding bomb.

Part of their building's seventh floor had collapsed into the interior patio, heavily damaging apartments on the floors below. No one died, but the 120 families living in the building were left homeless.

Despite reforms in recent years to address the island's housing problem, such building collapses remain common in Cuba, where decades of neglect and a dearth of new home construction have left untold thousands of islanders living in crowded structures at risk of suddenly falling down.

When President Raul Castro legalized a real estate market for the first time in five decades, it was supposed to stimulate both new construction and maintenance of existing homes. But 2½ years later, there has been only a minimal impact on easing one of Cuba's biggest challenges: a chronic lack of suitable housing.

"We are very worried. The housing situation is critical in Cuba," said Anaidis Ramirez, among those displaced by the Feb. 28 building collapse in the densely populated Central Havana neighborhood.

Ramirez and dozens of other neighbors camped out for weeks on sidewalks and in a nearby parking garage to press authorities to find them decent homes. Some went to stay with relatives, while others found housing in cramped government shelters where families can be trapped for years until a permanent home opens up.

Cuba, a country of about 11 million people, lacks around 500,000 housing units to adequately meet the needs of the island's citizens, according to the most recent government numbers from 2010. The housing deficit widens each year as more buildings fall further into disrepair, punished year-round by the tropical sun, sea and wind.

Sergio Diaz-Briquets, a U.S.-based demographer who has written about the island's housing deficit, estimated the figure is now somewhere between 600,000 and 1 million.

And, he said, adding in the existing units that are structurally unsound or otherwise unfit for occupancy, the true deficit "could be even greater."
Continue reading HERE.
H/T Regina A.
Comments
comments